Marriott points value – What they're worth and how to get the most out of them
Marriott is the largest hotel chain in the world with over 1.3 million rooms across 32 hotel brands. This is great because you can collect points with the Marriott Bonvoy program at hotels ranging from ultra-luxury resorts to family-friendly hotels to economical roadside stops. Also, Marriott Bonvoy elite status comes with valuable benefits at hotels in nearly every corner of the world.
And there is a wide range of Marriott hotel credit cards issued by Chase and American Express. If you need to earn Marriott points, right now is a great time to apply for the Chase Marriott Bonvoy Boundless card because it has an increased welcome offer of 100,000 points after spending $5,000 in the first three months. Or if you're more comfortable applying for a credit card with no annual fee the Chase Marriott Bonvoy Bold also has an increased bonus of 50,000 points after spending $2,000 in the first three months.
With such a wide-reaching program, what is the true value of Marriott points? Let's break it down.
Understanding a Marriott points value
To understand what Marriott points are worth, we should first consider the different redemption options available, then see how much money we can save by using points instead of cash. The best way to use Marriott points is for their primary purpose, booking hotel stays at Marriott locations.
The Marriott award chart shows you how many points you need for an award night redemption. Each hotel is assigned to a category with a specific standard point cost along with peak and off-peak pricing.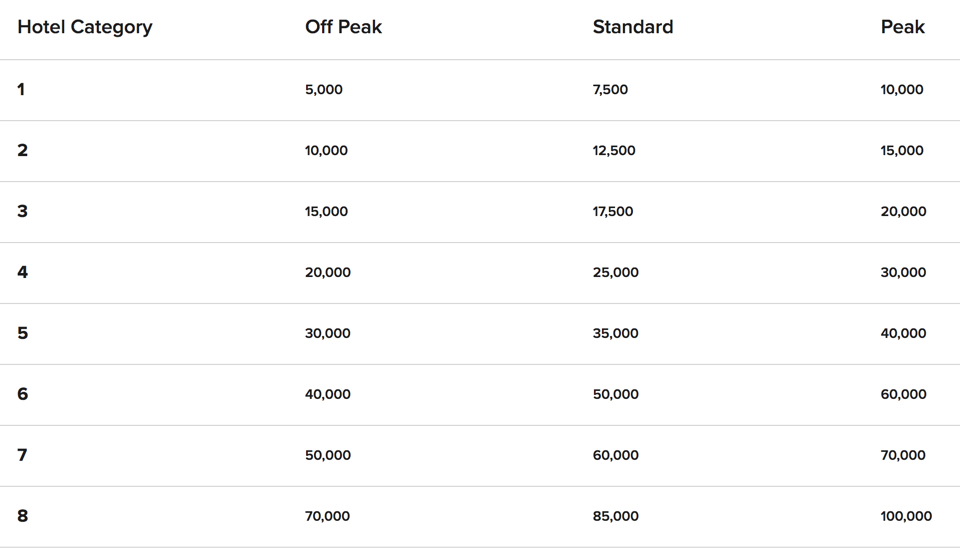 For the sake of consistency, we'll use the standard rates for evaluation.
| Category | Point Cost | Cash Price (Estimated by Me) | Avg Point Value |
| --- | --- | --- | --- |
| 1 | 7,500 | $70 – $140 | 1.5 cents |
| 2 | 12,500 | $100 – $240 | 1.2 cents |
| 3 | 17,500 | $100 – $280 | 0.8 cents |
| 4 | 25,000 | $100 – $340 | 0.6 cents |
| 5 | 35,000 | $180 – $500 | 0.8 cents |
| 6 | 50,000 | $400 – $750 | 1.2 cents |
| 7 | 60,000 | $600 – $1,000 | 1.5 cents |
| 8 | 85,000 | $1,000 – $2,000+ | 1.5 cents |
Most categories offer a range in value, but you can usually expect to get an average of .9 cents per point toward a booking — or more if you are willing to search around. Some categories and dates really stand out as great savings opportunities. If you plan on making a booking, keep in mind, that Marriott is changing the award category for nearly 30% of its hotels for award stays booked on or after March 4, 2020.
Two Marriott award night sweet spots
Every award chart has opportunities for exceptional value. When using Marriott points for hotels, category 1 and category 6 can be good options. You can also transfer Marriott points to 40+ airlines, which is a nice option to have if you want to take advantage of an airline award chart sweet spot and  because many of these airlines you can't earn miles with the best airline credit cards.
Category 1 hotels
At only 7,500 Marriott points per night at the standard rate (and even fewer points during off-peak times), it is easy to accrue the points for a free night at a category 1 hotel. Often these hotels still charge $100+ for a night's stay. The hotels in this category are comparable (in price and amenities) to many of those in categories 2 and 3 but for far fewer points. This is a great opportunity to get a lot of value from a small number of points.
There are 140+ category 1 hotels in the U.S. For example, The Courtyard in Killeen, Texas is a nice hotel (I've stayed there), and it can go for over $160 some nights (it averages around $140). At a standard rate of 7,500 points per night, it may not be a memorable hotel, but it is a great value.
Categories 3 and 4 are fairly uninspiring. This is the lowest point value on average across any of the categories. I wouldn't recommend redeeming nights within these categories unless you have a good reason or find an exceptional deal. You are better off paying cash and earning points for your stay within this category, instead of redeeming points.
Category 6 hotels
Category 6 is the best overall value, in my opinion, for using points. In general, each point will be worth more in this category than in any other category on Marriott's list. Many of the Ritz-Carlton hotels in this category are exceptional deals. There are also other premium hotel brands like Westin, Autograph Collection, Renaissance and St. Regis.
Unfortunately, Marriott shifted some of the best values within Category 7 into a Category 8. This newer category costs 15,000 more points per night, which has a significant impact on the value of your points. But even at the new reward rate, it contains Marriott's finest hotels and many of them offer a value of more than one cent per point.
Always check the cash price before booking
The value of your points can change significantly across multiple days of the week, so I always recommend checking cash prices before booking to see what value you're getting.
For example, let's take a look at the rates at the Courtyard Seattle Bellevue/Redmond hotel.
As you can see, with peak and off-peak prices the points rate is more closely aligned with the cash rate — as one goes up, so does the other. I would recommend paying cash and saving your points if you were staying on a night where the cash price was low. But on certain nights you'll get a greater value when using your points. The same hotel can offer you drastically different value for your points. For example, on most Friday and Saturday nights the price is $85 plus ~$12 in taxes and fees and the award rate is 15,000 points, which is a value of ~.65 cents per point. But on some weeknights the prices tops $200 (including taxes and fees) and only costs 17,500 points, which is a solid value of ~1.14 cents per point.
Get even more value with Marriott's "Stay 5, pay for 4" perk
Marriott has an incredible offer that allows you to get even more value from your points. This perk is called "Stay 5, pay for 4" and is available for everyone, with no blackout dates. This allows you to redeem five awards nights for the cost of four nights (the lowest priced night will be free). You must use points to cover the entire stay and the five nights must be consecutive at the same hotel. This is a great way to get a discount on a 5+ night stay.
For example, consider this reservation at the JW Marriott Washington DC hotel. This room averages $598 per night or 50,000 points per night because it is a Category 6. This means on a normal night we would get a value of ~1.2 cents per point.
But if you book five nights in a row at this hotel and use Marriott points, you can save 50,000 points.
This room would cost ~$3,000 total if you paid for five nights with cash. But it is only 200,000 Marriott points, thanks to the "Stay 5, pay for 4" perk, which increases the value of your points to 1.5 cents each. Don't forget, you can use this perk at any award level and you don't need any special status to use it. Everyone is eligible.
What is the best way to earn tons of Marriott points?
It's easy to earn Marriott points for award stays. Every stay at a Marriott hotel will earn you 10 Marriott points per dollar spent. So a $100 hotel stay earns 1,000 Marriott points. There are three exceptions: Element, Residence Inn and TownePlace Suites hotels earn just five Marriott points per dollar spent.
You can earn even more points by maintaining Marriott Bonvoy elite status. Different levels of elite status earn more bonus points.
Silver Elite: Earn 10% bonus points (11 points per $1)
Gold Elite: Earn 25% bonus points (12.5 points per $1)
Platinum Elite: Earn 50% bonus points (15 points per $1)
Titanium Elite and Ambassador Elite: Earn 75% bonus points (17.5 points per $1)
These points can rack up very quickly. But the easiest way to earn more Marriott points toward hotel stays is still with cards like the Marriott Bonvoy Boundless

Credit Card, Marriott Bonvoy Bold

Credit Card, Marriott Bonvoy Business

American Express® Card  or the Marriott Bonvoy Brilliant

American Express® Card. You'll earn bonus points for opening the cards and meeting their minimum spending requirements. Plus, you'll get bonus points when you use them for your paid stays with Marriott, which isn't true for all of the best travel credit cards.
Marriott is also a transfer partner for Chase Ultimate Rewards and Amex Membership Rewards, so you can indirectly earn Marriott points with many of the best rewards credit cards issued by Chase and American Express. Marriott points expire after 24 months of inactivity, but you can reset the clock with qualifying activities like earning or redeeming Marriott points.
Bottom line
Marriott Bonvoy is one of the best hotel reward programs. You can earn and redeem Marriott points across 32 different hotel brands with over 1,300,000+ rooms worldwide.
As an overall average, you will usually get ~.9 cents in value per point across all hotel brands in the Marriott family. But earning even higher value is possible if you are willing to look around. Don't forget that Marriott's "Stay 5, pay for 4" perk is available to everyone and helps make your points worth even more. To take advantage of these deals setup a Marriott account to starting earning points.