How to renew TSA PreCheck and Global Entry: Save time at the airport
There's not a single frequent flyer out there who enjoys waiting in lines. One of the reasons elite status is so valuable is that allows travelers to take advantage of such perks as dedicated check-in areas, early boarding and expedited baggage handling.
If you're not an elite flyer, you can still speed through the airport by being a member of a trusted traveler program like TSA PreCheck or Global Entry. With both programs, you'll skip long TSA security lines at most airports, and Global Entry gets you a fast track through U.S. immigration and customs. Plus, when going through security, you won't have to remove toiletries or your computer from your carry-on or take off your jacket, shoes, belt, etc.
The best part? You can get your TSA PreCheck or Global Entry application fee reimbursed when you have the right credit card, not only when you first apply but also when it comes time to renew that membership.
Get TSA PreCheck or Global Entry with these cards
You can receive an up to $100 statement credit for TSA PreCheck or Global Entry (which comes with TSA PreCheck) on the following cards, including these (with their renewal time frames listed):
Some of the best credit carfds for travel offer TSA PreCheck or Global Entry reimbursement. When you pay the application fee with your card, you'll get a statement credit for the amount you paid. Depending on the card, you can use this benefit every four to five years, so you'll always have access to a faster airport experience.
The cost of a five-year membership for TSA PreCheck is $85 while Global Entry (which comes with TSA PreCheck) costs $100. Any credit card that offers a trusted traveler program statement benefit will cover the cost of one of these programs up to $100.
If you have a valid passport and can apply for the program, we recommend that you apply for Global Entry rather than TSA PreCheck. If you plan on doing any international travel in the next five years, it's worth it.
How will you know when it's time to renew?
All U.S. trusted traveler programs are valid for five years, and some programs allow members to renew their membership earlier than others. Whether you hold TSA PreCheck or Global Entry, it is easy to find out when you'll need to renew either program.
TSA PreCheck
The Transportation Security Administration (TSA) will notify members up to six months prior to their membership expiring, using the phone number and/or email address provided when that member originally signed up for the program.
Unlike Global Entry, TSA PreCheck members do not receive a physical card indicating their membership. This means the only way to determine when your TSA PreCheck membership expires, other than waiting for TSA to contact you, is to visit the TSA's Universal Enrollment website or contact TSA customer service.
Global Entry
Determining when your Global Entry membership expires is substantially easier. For one, the expiration date of your Global Entry membership is printed on your Global Entry card. Global Entry members also will still receive a notification via email informing them of the program's expiration date.
Global Entry includes TSA PreCheck. Members can renew Global Entry as far as a year in advance, while TSA PreCheck can be renewed as far as six months in advance.
How do you renew your trusted traveler program membership?
Renewing your trusted traveler program membership is surprisingly painless. In many cases, the process should only take a few minutes out of your day and a second interview or visit to an application center may not be needed.
TSA PreCheck

I wrote a review of the unbelievably simple process to get TSA PreCheck. You can read that here. And renewing is even simpler.
It's unlikely that you'll need to schedule an appointment at a TSA PreCheck application center to renew the membership. However, in some cases, the TSA will require a traveler to visit an application center to provide updated information or new fingerprints. Travelers will find out whether they'll need to visit an application center when they go through the reapplication process online.
To begin the renewal process, head to the Universal Enrollment portal via this link and click the green button that says "Renew." You will need to provide your Known Traveler Number (KTN) and some basic personal information. If the information you have provided is correct and you are eligible to renew your TSA PreCheck membership, you will be directed to the application.
During the renewal process, you will likely be instructed to provide updated information and confirm existing information. You will also be prompted to provide payment information. If you are hoping to take advantage of your credit card's TSA PreCheck statement credit benefit, be sure to use this credit card at checkout. For a full list of credit cards that provide this benefit, check out our guide.
Global Entry
Enrolling in Global Entry takes considerably more effort, but it's made easier with one trick. Here's the process.
Step 1. Log into the U.S. Customs and Border Protection website
Whether this is your first time applying for Global Entry or you're renewing, you'll need to log onto the US CBP website. This is a different website than in previous years, so you'll need to create a new account if you opened the card with a GOES ID (if you don't know what that is, it's okay because it won't concern you).
I had to update/confirm a few things, like passport info, drivers license, and home address.
Step 2. Choose to renew your membership
You can re-apply for Global Entry if you're within 1 year of expiration.  And no matter when you re-apply, your new five-year membership will begin on the date your previous membership expires. In other words, you won't lose 12 months of your membership if you renew 12 months early!
After you create your account, you'll see a box with all your membership info, such as your Trusted Traveler Number, expiration date, and TSA PreCheck enrollment.  Click "Renew Membership."
Step 3. Update your information
Although this is a different website than you've used in previous years, much of your info will still be saved. That's because it's attached to your Trusted Traveler Number, which you entered when creating a new account.
You'll still need to verify that the info is correct, and add any new information. For example, you'll need to enter all the countries you've visited since your previous application.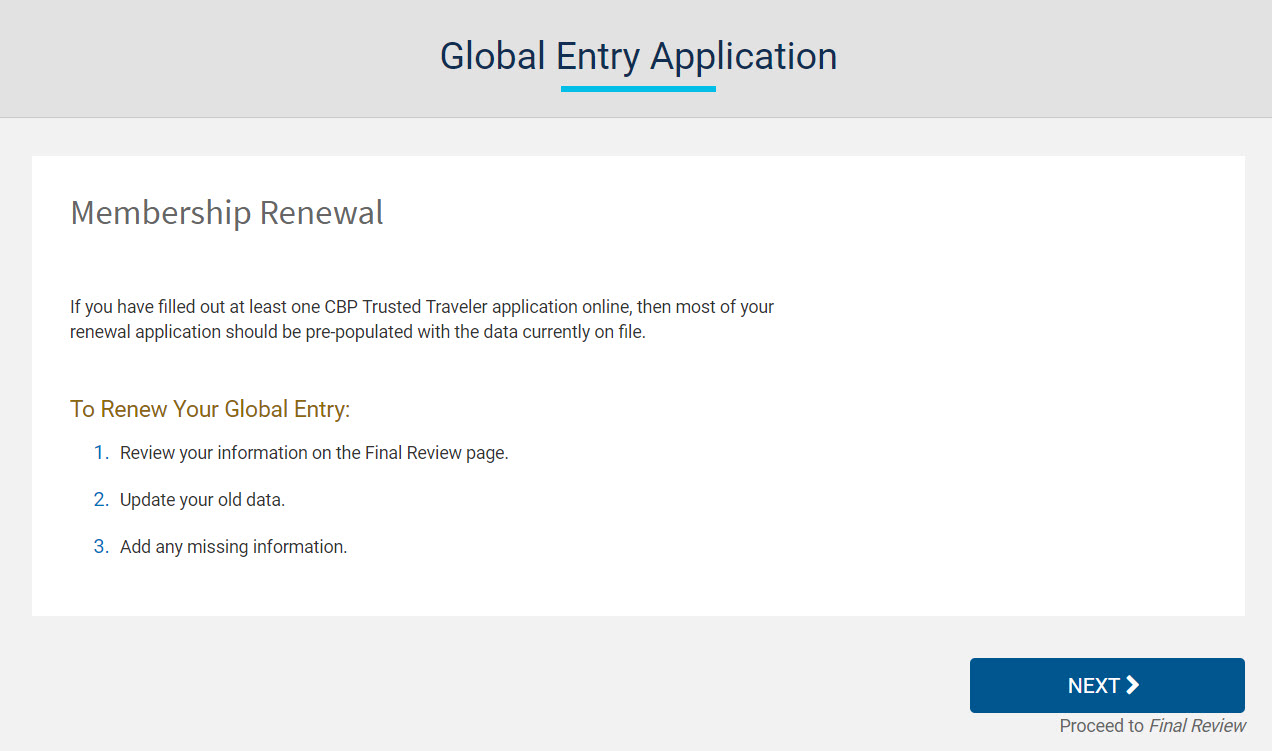 Step 4. Set up an interview
Some travelers don't need to re-interview for Global Entry. This was not the case during my renewal experience — the site indicated that they'd give me the works, both the background check and the interview. However, before my interview appointment, I received a renewed Global Entry card in the mail. Zero hassle!
Step 5. Pay for your application with the right credit card
The Global Entry application costs $100, and it's non-refundable. So if you aren't approved after your interview, you won't get your money back. Again, be sure to use one of the top credit cards for Global Entry and TSA PreCheck to have your application fee reimbursed.
That's it! Your next step is to set up an appointment for an interview.
Setting up a Global Entry appointment
This is by far the biggest pain point of Global Entry. There are two reasons for this:
There are very few Global Entry enrollment centers. I've got just two locations within ~100 miles of me, and they all have ridiculous hours
Global Entry appointments are difficult to find. The soonest my "local" Global Entry enrollment center can fit me in is March
Because enrollment centers are often so far booked in the future, the best option for most of us is to log into the site and try to reschedule the appointment.  Oftentimes you can pounce on an open slot from a recent cancellation. This tactic earned me an interview months earlier than my originally scheduled date when I first applied for membership years ago.
Bottom line
The TSA expects a record number of travelers to take to the skies this summer, which means longer lines and wait times. Global Entry and TSA PreCheck provide travelers the ability to bypass these long lines.
Certain credit cards will cover the cost of either program every four to five years, depending on the card. Even when it's time to renew your Global Entry or TSA PreCheck membership, you can get a statement credit for the application fee when you pay with your card.
For more about using top credit cards with a Global Entry or TSA PreCheck statement credit, check out our guide to beating airport lines.
For the latest tips and tricks on traveling big without spending a fortune, please subscribe to the Million Mile Secrets email newsletter.
For rates and fees of the Amex Platinum card, click here
For rates and fees of the Amex Business Platinum card, click here
For rates and fees of the Marriott Bonvoy Brilliant card, click here