Hotels with free breakfast: Everything you need to know
Staying at a hotel that offers free breakfast is a terrific way to save money and time because you don't need to run around looking for your morning meal or spend a fortune. Some hotels offer free breakfast to everyone, but you can often get a fancier, more substantial meal when you have hotel elite status.
And you might be surprised to find out you can earn status which gets you free breakfast just by holding the right travel credit card or hotel credit card, such as:
You don't need to be a frequent traveler or spend tons of money to get in on this perk. Let's take a look at all the major hotels with free breakfast. We'll show you the best chains to look for and how you can do even better by earning elite status with credit cards.
Hotels with free breakfast
Most hotels charge extra for breakfast, but there are moderately priced chains that offer free breakfast for all guests, making a stay at their hotels an even better deal. Upscale hotel chains tend to require elite status for free breakfast, but we, of course, found which ones stand out in this category too.
Hilton
Hilton offers free breakfast across many of its value-based brands, while their more premium brands require elite status to earn free breakfast. These are the Hilton hotel brands that offer free breakfast for everyone:
Other Hilton brands will have breakfast available for an additional cost, but if you have Gold or Diamond Hilton status you'll get free breakfast at all Hilton hotels.
You'll get Hilton Gold status with the Hilton Honors American Express Surpass Card or The Hilton Honors American Express Business Card just for having the card. With the Hilton Aspire card, you'll get complimentary Hilton Diamond status by keeping the card.
Even if you only stay at Hilton hotels occasionally, the cost savings of getting free breakfast can easily offset the annual fee on these cards. Jasmin and her three kids stayed at the Conrad Tokyo, where they have an incredible breakfast buffet. Had they paid cash, it would have cost $140 for the four of them, but it was free with her Hilton status.
You'll also earn Hilton Gold status when you have The Platinum Card® from American Express or The Business Platinum® Card from American Express. It's one of many outstanding, money-saving perks you'll get with these cards. Check out our review of the Amex Platinum and review of the Amex Business Platinum to find out more.
Hyatt
There is free breakfast for all guests at these Hyatt hotel brands:
SLH partner hotels (when booking through Hyatt)
One big caveat with the free breakfast at Hyatt Place is that they require you to be a World of Hyatt member and to book your room directly with Hyatt. You don't need to have elite status with Hyatt – just being signed up as a member will be enough to satisfy the requirement.
Hyatt offers free breakfast at all of its hotels for Hyatt Globalist elite status members, including:
Unfortunately, you can't earn Hyatt Globalist status just by holding a credit card. The World of Hyatt Credit Card comes with mid-tier Discoverist Hyatt status only. But if you have a lot of Hyatt stays you might consider the card to put them over the threshold for earning Globalist status, because you'll earn five qualifying elite night credits each year. You'll even receive an additional two qualifying night credits for every $5,000 you spend on the card.
The good news is that Hyatt breakfasts tend to be very good quality, so earning free breakfast here can really be worth it.
IHG
A few IHG hotel brands offer free breakfast for all guests:
I actually think that Holiday Inn Express offers quite a lot of value and options for free breakfast, especially at its price point. The cinnamon rolls are delicious.
MMS team members are big fans of Staybridge Suites, with its free breakfast buffet and evening socials with complimentary food, wine and beer at some locations. Avid hotels provide at least a light complimentary breakfast, such as premium coffee, fresh fruit, health bars and yogurt. They also offer grab-and-go hot breakfast sandwiches and scrambled eggs on occasion.
Unfortunately, other IHG brands offer no means of getting free breakfast – even for elite status members. Hopefully, IHG will up their game with this in the future.
Marriott
It's easy to find Marriott hotel brands just about anywhere you go. Marriott offers free breakfast at five of its brands for all hotel guests:
To enjoy free breakfast at one of Marriott's other brands you will need to have high Marriott Bonvoy elite status. Marriott Platinum, Titanium and Ambassador status members can get free breakfast at most other Marriott hotels, although at some hotels you may receive points or a different amenity.
Free breakfast for Marriott Platinum Elites include these brands:
Keep in mind that this isn't every Marriott brand. There are a few hotel brands that do not offer breakfast for even Platinum elites. These include:
Best Western
As a rule of thumb, Best Western hotels are proud to offer free breakfast to all guests (at the vast majority of locations). They offer this at Best Western, Best Western Plus or Best Western Premier hotel. You usually find:
An assortment of fresh breakfast breads, muffins and pastries
A selection of popular cereals and oatmeal
A variety of hot breakfast options including French toast, waffles or pancakes
Many hotels serve hot eggs as well as a selection of breakfast meats
There are also some options for travelers on the run, like fruit and granola bars. This makes Best Western a good choice for budget-minded folks, especially families.
Choice Hotels
Choice hotels are great value options, and really good for road trips – you can find them even in smaller towns and spots off the beaten path. They offer free breakfast at many of their hotel brands.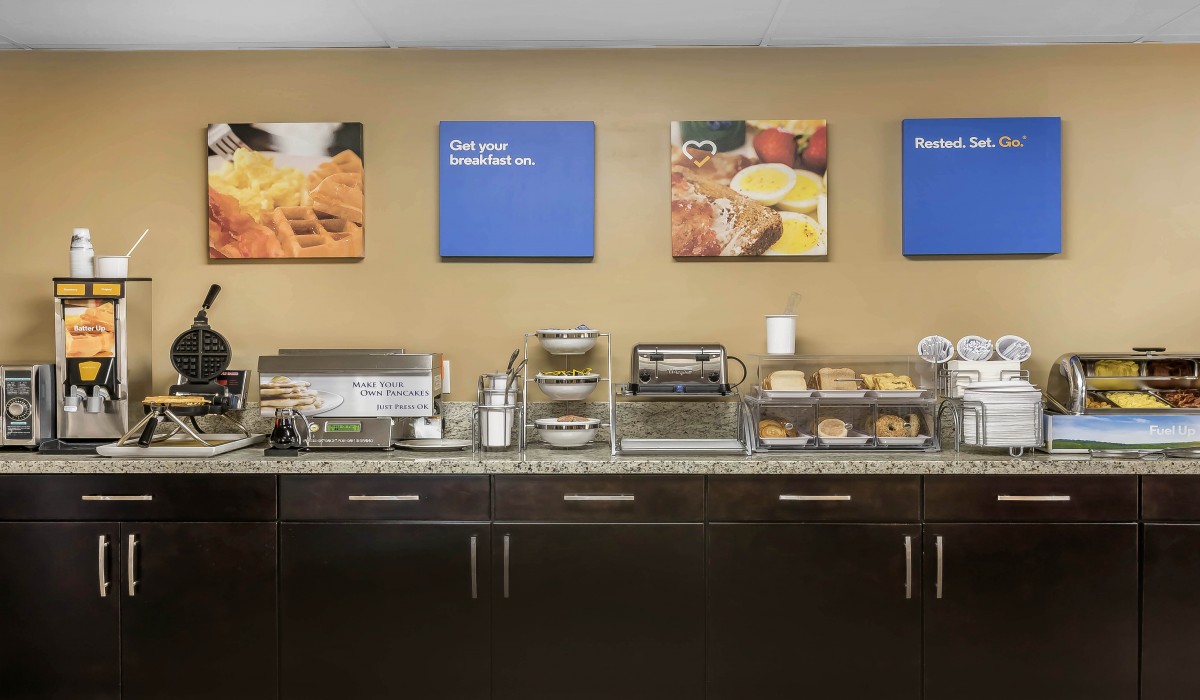 You can enjoy free breakfast at these hotel brands:
Some other Choice hotel brands like Rodeway Inn or Clarion will often have breakfast at specific locations, but don't offer it as a brand-wide perk. Check the location's page before booking to see if it is offered for that location.
Radisson
Earning breakfast at Radisson hotels is a bit more sporadic. There are definitely many Radisson hotels that will offer free breakfast, but this tends to be left up to local management and is not something that is ironed out chain-wide.
Many of the upgraded rooms (such as "Business Class" at Radisson Blu) do include breakfast as part of the room rate, but having elite status and earning a room upgrade doesn't guarantee that breakfast will be included with the upgrade. As a rule of thumb, you will want to check each hotel location's individual site or call ahead to see if free breakfast is included with the stay because it varies based on location.
One exception is Country Inn & Suites, which offers free hot breakfast to all guests.
Wyndham
Most Wyndham brands offer free breakfast for all guests. So they're another budget-friendly option if you're looking to save cash.
These Wyndham hotel brands offer free breakfast:
Unfortunately, none of the other Wyndham brands (other than those listed above) offer any way to enjoy free breakfast, even with elite status from Wyndham Rewards. No tier of elite status offers this perk.
Other ways to get free hotel breakfast
If you don't have elite status you can still get a free breakfast if they the right rewards credit card.
American Express Fine Hotels & Resorts
One of the perks of The Platinum Card® from American Express or The Business Platinum® Card from American Express is access to the American Express Fine Hotels & Resorts program. When you use your Platinum card to book a hotel through this program, you earn a bunch of extra bonuses and perks during your hotel stay. One of the many perks you get is free daily breakfast for two.
We really like using American Express Fine Hotel & Resorts portal because their prices are typically similar to booking through the hotel directly. And you'll get other perks like a unique property amenity and guaranteed late check-out. For more details on the program, read our Amex Fine Hotels & Resorts review.
Chase Luxury Hotel Collection
If you have certain Chase credit cards, like the Ink Business Preferred℠ Credit Card or Chase Sapphire Preferred® Card, you can access the Chase Luxury Hotel and Resort Collection. When you use your card to book, you'll get perks like daily breakfast for two, room upgrades if available, early check-in and late check-out (when available) and unique property amenities like hotel credits.
Jason and his wife enjoyed an excellent stay at the Park Hyatt Chicago booking through the Chase Luxury Hotel and Resort Collection. Along with free breakfast (worth ~$70), they got a room upgrade and $100 in credits that they used for dinner.
That said, if you have any Visa Signature card, you can book through Visa's version of the program, the Visa Signature Luxury Hotel Collection. This entitles you to free daily breakfast for two at any hotel available on the site.
In addition, you will earn a bonus $25 credit to use towards other food or drink during your stay. In my experience, the Visa Signature Luxury Hotel Collection doesn't have as many hotels in their network as the Amex Fine Hotels & Resorts program, but there are a lot more cards supported under the program. In fact, tons of the best credit cards for travel are Visa Signature.
Bottom line
Hotels with free breakfast help you save money and start your day off right. Some hotels like Best Western offer free breakfast to everyone (most of the time), while others only offer free breakfast to elite status holders or at certain brands. For example, with Gold Hilton status (which comes complimentary with cards like the Hilton Honors American Express Surpass Card), you'll get free breakfast at all Hilton hotels.
Getting a free breakfast, especially if you're traveling with others, can save a ton of cash. But if you don't want to worry about elite status, you can still get elite-like perks by booking your hotel stays through the Chase Luxury Hotel and Resort Collection, Amex Fine Hotels and Resorts, or Visa Signature Luxury Hotel Collection.
Do you choose hotels based on whether or not you'll get free breakfast? What's your favorite brand?